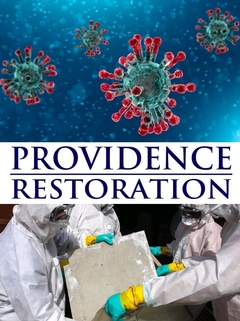 The team at Providence Plumbing of Charlotte, along with our sister company, Providence Restoration, has been cleaning up and disinfecting biohazardous materials like sewage and bodily fluids for years. As the nation comes to terms with the concerns surrounding the outbreak of Coronavius (CO-VID), we have the answer for business owners and facility managers who are wondering, "How can I protect myself and the occupants of the building from this infectious disease? What can I do to take steps to help ensure the health of people who use the building?"
Our biohazard technicians at Providence are well trained and up-to-date on the current cleaning and sanitizing protocols set forth by the CDC in regards to biohazard cleanup and deadly disease infection containment.
COVID-19 is a coronavirus like SARS that caused similar levels of concern years ago. However, the cleaning and restoration industry now has access to professional-grade antimicrobial and antibacterial products that can thoroughly clean and sanitize your facility to provide a level of assurance in the safety of the environment.
Respiratory droplets can still contain the active virus on hard surfaces even ten days later. By contracting with a professional remediation company to perform a deep clean, you can assure your employees, tenants, and clients that you are proactive in protecting their wellbeing and health.
We encourage you to remind everyone to practice the recommended hygiene protocols by washing hands frequently and staying home when feeling ill. If possible, allow employees to work from home if there's an active outbreak in your community to avoid the spread of the virus before symptoms appear.
Providence is one of the few companies in the Charlotte, NC, area that has the gear, products, training available NOW to perform a deep clean and sterilization of your business environment. Contact us today if you'd like to offer your employees and customers peace of mind regarding the cleanliness of your facility. Let's work together to help our community stay healthy. Always serving.